What is cold storage and how can it help our logistics?
Cold storage, also known as temperature-controlled storage, is based on the maintenance of goods, usually perishable products. In the case of Antonio Marco, this is very centralised in the food sector. Products such as fruit and vegetables are part of the wide range of products that Antonio Marco keeps in its various logistics warehouses.
From an economic point of view, cold storage allows companies of all kinds to satisfy the needs of a special category of customers who are looking for guaranteed security in the cold chain.
Why use a logistics warehouse?
Temperature-sensitive and frozen food products must reach the consumer's table with all their properties and characteristics intact. This is a key aspect, as it can have a positive or negative impact on the image of your business and also determine your market performance. For this we often need to extend the shelf life of the product, and for this we need preservation chambers that allow this. For example, citrus products such as lemons can have a shelf life of only 10-15 days after harvesting without conservation, with the loss of image and properties that this has an impact on subsequent sales. However, with proper temperature-controlled storage we can extend the shelf life of this product to 45 days, allowing us to offer scalability to our customers and above all peace of mind as it provides security to our customers.
All the advantages of temperature-controlled storage.
Advantages of cold storage, therefore, storage in the agri-food sector optimises the useful life of the product, offering important advantages for producers, distributors and consumers.
Ensuring security in the supply chain when the characteristics of your company allow it not only guarantees a significant reduction in costs, which can be important for business growth.
On the other hand, it will have a positive impact on the cold chain, as a more efficient organisation can significantly reduce costs for producers – exporters. This also ensures higher quality and better preservation of the organoleptic properties of the food.
Clearly,
to ensure that you get the most out of cross docking for your business, it is important that you seek advice from industry professionals who can analyse each of your company's characteristics in detail and make a thorough assessment of the concrete benefits of destocking.
Not many people know that, according to statistics, around 12% of the final cost of products to the consumer includes the manufacturer's costs for logistics and warehousing. To reduce the cost of goods, it is necessary to simplify the supply chain and reduce logistics costs. For this reason, many large manufacturers and companies have been using cross-docking technology in their operations for some time.
Temperature-controlled food warehouses.
If you are looking for a warehouse, Antonio Marco can help you to smoothly manage the consolidation of your goods with cross-docking. Antonio Marco's logistics warehouses are prepared to provide a service any day of the week and at any time you need.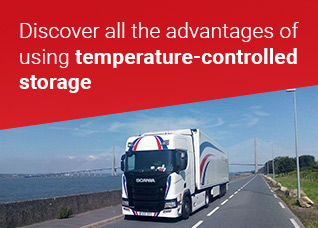 How does cold storage work?
The peculiarity that makes warehousing especially popular in the agri-food sector is that it allows you to benefit from a lean logistics model, a system that profoundly transforms the logic that normally governs the warehouse. The latter can therefore be understood as a transit point that no longer depends on the famous stock of goods.
The requirements for the proper functioning of temperature-controlled warehousing are also the foundations of the system itself, without which it would be impossible to benefit from a truly virtuous process:
Firstly, …
Associated with this fact, there is also the importance of collaboration between the parties in this specific area. It is not possible to structure such an efficient operation, based on constant updating, without a total alignment of intentions.
Finally, ….
Examples for cold storage
For almost any perishable product, cold storage is a cost-effective solution as long as the market allows it:
Foods with a limited shelf life (vegetables, meat and fruit).
High-value products that can only be purchased during a certain time of the year and the customer does not have sufficient space or resources for stock.
Products with a strictly defined shelf life.
Products with a demand with ups and downs; those that the market in situations of high supply need stocking to extend the shelf life and to be able to obtain greater profitability.
…. (etc)

Characteristics of a logistics warehouse
Logistics warehouses require a series of specifications in order to be able to fulfil this function:
To obtain the certificate of activities for storage and a sanitary registration that guarantees the storage of food for human consumption in the facilities, this is step 0.
Once here we find different needs that our customers may require such as IFS certification, in which we are pioneers in our region, possessing one of the highest scores.
In the case of cold storage, a good cooling system with the necessary characteristics to offer a homogenised temperature to the product.
Evaporators and air renewal systems.
Cleanliness and airtightness in areas requiring low temperatures with delicate products such as stone fruit or dairy products.
Loading bays
Zonal temperature controls for the entire warehouse, traceability is a plus for our customers.
Profiles of temperature-controlled storage companies
These are some of the types of companies that should adopt cold storage:
Producers whose market does not allow them to cover costs at the time of harvesting.
Companies that supply perishable goods and have low logistical capacity in their facilities.
Those who do not have facilities and need a logistics partner; traders.
Supermarkets in situations of force majeure; border closures (Brexit – Covid), shop strikes, etc.
Companies with overproduction that do not have sufficient demand and need to extend the useful life of the product.
When to use a logistics warehouse?
The use of a logistics warehouse is most effective in the following cases,
Ability to cover logistics costs and pass them on to the end customer.
Not selling at a loss, being able to obtain greater profitability by extending the useful life of the product.
Need for stock to cover peaks in demand.
Impossibility of using lean manufacturing due to boom periods.
Need to stock raw materials for downstream production
Conservation to wait for demand needed for sales