What is logistics picking?
Picking is the action of consolidating non-unit loads to create an order unit. This order unit can be made up of europool boxes that make up a pallet of lemons, a package containing different products (e-commerce), the consolidation of materials on a unit necessary to start a job, etc.
Logistics picking, in its English translation, order preparation, is the action that allows us to confirm a customer's order. Once the order has been consolidated, we proceed to its distribution.
Why picking is necessary?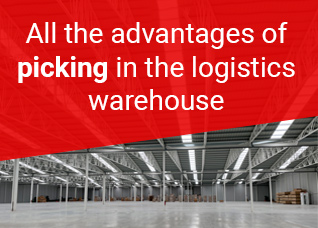 Order picking has become essential over the last 20 years due to the e-commerce boom. The omnicality, added to a specialisation of the service, also known as the Amazon effect, the biggest retailer in the world today, has turned picking into a key service for logistics companies.
It is true that picking, as we have specified above, differs according to the type of business. A company whose unit of speech is pallets will have less complex picking in terms of reference management, but probably more complex in terms of cold traceability. Antonio Marco focuses its picking on the preparation of orders for supermarket chains, receives goods with different traceability, receives the order to be consolidated, consolidates, and finally distributes on the platform.
All the advantages of the use of picking in the logistics warehouse.
Advantages of logistics picking, it allows for a wider range of services that complement warehousing and distribution very well. With the growth of home delivery in fresh produce, logistics operators that are able to cover all of this, in the agri-food sector, will automatically become even more essential to their customers.
Main advantages
Guarantee security in the preparation of orders
Traceability of everything less than a unit
Disregard of delivery to the customer (as long as your supplier controls the distribution and does not outsource it)
Positive impact for the job allowing staff specialisation.
Consumer satisfaction that implements consumer policy: so, here and now.
Warehouses prepared to offer a picking service.
If you are looking for a warehouse, the company Antonio Marco can help you to manage without problems the consolidation of your goods as well as transhipment of your goods. Amongst another very unique service we can do for you, is the picking and reconditioning of goods.
At Antonio Marco's logistics warehouses we are prepared to provide a service any day of the week and at any time you need. We will soon be presenting our new logistics platform which will allow us to cover the service required by our customers more efficiently.
The peculiarity of picking is the importance of a series of qualified professionals, not only for the use of the WMS (Warehouse Management System) but also for the complexity of managing certain goods that contain many references that make the use of RFID or barcodes complex. To all this, we must add goods with delicate handling such as others that need to be handled at temperature.
The inclusion of this type of service makes this type of logistics warehouse especially popular in the food sector, as it allows you to benefit from a lean logistics model, a system that profoundly transforms the logic that normally governs the warehouse.