What is frozen transport?
Frozen transport is that which requires a refrigerated lorry to maintain the product at temperatures ranging from -18ºC to -25ºC.
…
Read on to find out all about transporting goods at negative temperatures.
What kind of goods does frozen transport cover?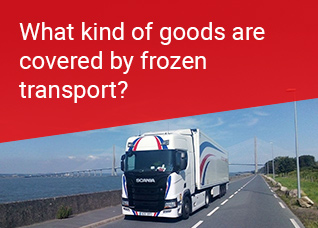 Frozen cargo transport covers all goods, whether foodstuffs or non-foodstuffs, which require a frozen transport …
In general, it is the most predominant throughout Europe. Although refrigerated transport has gained in importance due to the longer preservation of foodstuffs, as well as the emergence of pharmaceutical transport. This mode of land transport, the road truck guarantees the most efficient delivery in all those short distances not exceeding 3000 km where the efficiency of this begins to decline compared to rail or sea transport if there is no transhipment. There is a huge diversity of products for dry transport:
Transport of perishable foodstuffs, but with a long shelf life thanks to the freezing of the product such as: meat, fish, ice cream, etc;
Medicines or vaccines that require negative temperatures for their conservation;
Is a refrigeration appliance sufficient to meet the requirements of the freezing industry?
Yes. …
Talk about ultra frozen
National and European regulations applicable to frozen road transport
National regulations applicable to transport at ambient temperature are those published in the BOE, latest publication in the Royal Decree 70/2019 which amends the Regulation (ROTT) of the Law of Land Transport Management (LOTT). On top of this are the European regulations that are the ones that regulate transport, especially at the level of driving and rest times (tachograph regulation where all members share rules, but unfortunately not interpretation of this).
Things to bear in mind before booking a negative temperature transport
Capacity of transport Is it palletised goods or not?
Certain that the goods need negative refrigeration
Estimated delivery time
Packing and handling
Legislation for the transport of general cargo
As most general cargo goods can be shipped by road, as well as by rail, sea or air. However, it is important to understand that, in the case of vehicles carrying frozen goods, it is…
More information and a quotation for our frozen transport services.