What is frozen storage and how can it help our logistics?
Frozen storage is based on keeping goods at negative temperatures. The average temperature of frozen products usually ranges between -18º C and -25º C. In the case of Antonio Marco, we are very centralised in the food sector, where frozen transport forms a large part of our turnover. In recent years, the demand for frozen storage chambers has been increasing, which is why Antonio Marco has had to rely on third parties to provide the frozen storage service.
Foodstuffs, not only fruit and vegetables, but also other dairy products and ice cream are part of the wide range of products that Antonio Marco stores in its various logistics warehouses through its partners.
From an economic point of view, frozen storage allows companies of all kinds to satisfy the needs of a special category of customers looking for guaranteed security in the cold chain, as well as an industry that continues to grow with the inclusion of new frozen foods.
Why use a logistics warehouse?
Temperature-sensitive and frozen food products must reach the consumer's table with all their properties and characteristics intact. This is a key aspect, as it can have a positive or negative impact on the image of your business and also determine its performance in the market. For this we often need to extend the shelf life of the product, and for this we need preservation chambers that allow this. For example, citrus products such as lemons can have a shelf life of only 10-15 days after harvesting without conservation, with the loss of image and properties that this has an impact on subsequent sales. However, with proper temperature-controlled storage we can extend the shelf life of this product up to 45 days, allowing us to offer scalability to our customers and above all peace of mind as it provides security to our customers.
All the advantages of using negative temperature storage
There are many advantages of negative temperature storage, this type of storage is in continuous growth within the agri-food sector, as it optimises the shelf life of the product, offering important advantages for certain consumer channels such as horeca and retail. Consumers are becoming increasingly aware of the need to reduce food wastage, and new freezing methods other than the classic IQF (Individual Quick Freezing) are increasing the interest of the agri-food sector in freezing and a posteriori freezing methods, increasing the demand for freezer warehouses.
Ensuring security in the supply chain when the characteristics of your company allow it not only guarantees a significant reduction in costs, which can be important for business growth.
On the other hand, it will have a positive impact on the cold chain, as a more efficient organisation can significantly reduce the costs of different consumer channels such as horeca or retail with certain products. Can you imagine a pallet of bananas on a month-long cruise, surely they will either eat it in the first week or it will be impossible to offer bananas in the fourth week?
Frozen food focused warehouses
If you are looking for a warehouse, the company Antonio Marco can help you to manage without problems the consolidation of your goods, we carry out transhipments of your frozen goods doing the cross-docking but in the same dock. However, for other cross-docking services we rely on third parties to use the freezer yard. Antonio Marco's logistics warehouses are ready to provide a service any day of the week and at any time you need. Soon we will present our new logistics platform that will allow us to cover in a more efficient way the service required by our customers.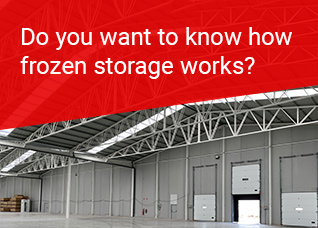 How does the frozen warehouse work?
The peculiarity that makes this type of warehousing particularly popular in the food sector is that it allows you to benefit from a lean logistics model, a system that profoundly transforms the logic that normally governs the warehouse. Focusing on stocking goods as if it were a dry warehouse but with the safety and work required in a frozen warehouse. Not only for the air conditioning characteristics but also for the human capital, this must be perfectly prepared to work in -20ºC conditions.
The requirements for the correct operation of a frozen warehouse are also the foundations of the system itself, without which it would be impossible to benefit from a truly virtuous process:
Firstly, facilities that meet the needs of the customers, equipped with shelving and the greatest possible automation
Along with this fact, there is also the importance of the collaboration that Antonio Marco has with various warehouses specialised solely and exclusively in frozen food. It is not possible to structure such an efficient operation, based on constant updating, without a total alignment of intentions
Finally, a WMS that allows real-time stock management.
Examples for frozen storage
For almost any product destined for frozen storage it is a cost-effective solution as long as the customer:
Has a market focused on frozen products
Frozen goods provide the customer with planning security but need a logistics partner that certifies and ensures that the cold chain is not broken.
Products with an undefined shelf life but with a determined production, FIFOs are also very important.
Products with a demand with ups and downs; if we talk about seasonality of product such as ice cream that requires a warm climate, however with fish it is more constant