What is dry storage?
Dry storage is a method of conserving temperature and humidity without the need for refrigeration. Although there are no refrigeration engines, temperature control and traceability must be key, especially in areas where there are high levels of humidity and temperatures can exceed 30º Celsius.
In the case of Antonio Marco they are very centralised with the food sector. In the case of dry storage, we need to comply with two maxims: a clean and dry warehouse.
Why use a logistics warehouse for non-refrigerated goods?
Food products that can be stored in facilities such as Antonio Marco's must comply with two maxims: correct packaging and good palletisation. This is key to their preservation and the good condition of the goods once they are to be removed. Due to its long storage periods.
The logistics support warehouse has become key for our customers. In recent years, we have moved from "Lean Manufacturing" production to strategies that focus more on stockpiling goods in order to avoid stock-outs. The increase of competitors in all sectors makes it almost impossible for a customer to afford stock-outs, for which he needs a logistics provider.
This type of warehouse allows customers to delocalise their stock management and distribution services (insert link to dry transport over distribution) and to focus on their real know-how, producing their product.
All the advantages of using warehousing
Advantages of dry storage, therefore, warehousing in the food sector optimises product management, offering significant competitive advantages to both manufacturers and distributors and ultimately to consumers.
Guarantee security in the supply chain as it prevents stock-outs during periods of demand stress. It can be used in the food industry as a storage solution for the food industry.
It can lead to a significant reduction in costs, due to possible commercial penalties from certain supermarkets for not delivering goods on time.
Possibility of generating leverage at peak production times in the factory, taking advantage of efficiencies where it is cheaper to produce.
On the other hand, it will have a positive impact on product management, as a more efficient organisation can considerably increase sales.
Possibility of cross-docking the goods (insert link to the cross-docking post published on 15 September "the rise of cross-docking…") in a large space by the logistics provider, as it does not consume refrigeration resources. And in turn it means lower investments for the customer in logistics services.
For all this, you can consult Antonio Marco on the most efficient way to manage your goods, we can guide you to good logistics practices.
How does dry warehousing work?
The peculiarity that makes warehousing particularly popular in the agri-food sector is that it allows you to benefit from a lean logistics model, a system that profoundly transforms the logic that normally governs the warehouse. Therefore, the latter can be understood as a key element in the supply chain where more services are included and not only the stock of goods.
In a dry warehouse, services such as picking, cross-docking and finally, distribution, make Antonio Marco a perfect partner for the supply chain of manufacturers.
Examples for dry storage
For almost any food product that can be stored, dry storage is a cost-effective solution as long as the market allows it:
Food with a long shelf life. (All packaged food that does not require temperature).
High value products that can only be manufactured during a certain time of the year and the customer does not have enough space or means to stock their goods.
Products with a defined traceability of the goods and which must be distributed prior to a specific date.
Products with a demand with ups and downs; those that the market in situations of high supply need storage to extend the management of the life of the product, in order to achieve the desired profitability.
Characteristics of a logistics warehouse
Logistics warehouses require a series of specifications in order to fulfil this function:
Obtaining the certificate of activities for storage in turn of a sanitary registration that endorses the storage in the facilities of food for human consumption, this is the key step for the foundation of a logistics warehouse.
Once here we find different needs that our clients may require such as IFS certification, in which we are pioneers in our region, possessing one of the highest scores in our last review.
In the case of dry storage, a good humidity control system with the necessary characteristics to offer the most homogeneous conditions for the product.
Ambient temperature control inside the warehouse.
Continuous inspection of the roofs during the rainy season to prevent water from entering the logistics warehouse at any time.
Lighting control depending on the type of product, light must be controlled.
Cleanliness and airtightness throughout the warehouse.
Loading and unloading docks
Warehouse reception area, or 'beach', where goods can be checked and quarantined if any anomaly is detected.
Traceability management through a WMS (Warehouse Management System) where the customer can be informed at all times of the total stock and traceability of each pallet or package.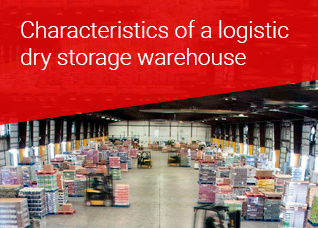 Profiles of companies with a need for dry storage.
These are some of the types of companies that should opt for dry storage:
Producers-Manufacturers that the market does not allow them to cover their entire supply at any given time.
Companies with low logistical capacity in their facilities, which have to use warehousing services companies.
Those that do not manufacture themselves, intermediaries or traders, those companies that subcontract production but this supplier does not guarantee logistics management. They need distribution centres where the goods can be stored before being shipped
Supermarkets in situations of force majeure; border closures (Brexit – Covid), strikes in shops, possible stock outs due to shortages of raw materials, etc.
Companies with overproduction that do not have sufficient demand and need to extend the management of the product for its sale.
Logistic warehouses at room temperature
If you are looking for a logistics warehouse, the company Antonio Marco can help you to manage without problems the management of your goods. Our logistics warehouses at Antonio Marco are ready to provide a service any day of the week and at any time you need. The location of our main warehouse, in the Mediterranean enclave of the A7 motorway between Murcia and Alicante. This allows us to offer our customers an ideal service for all their customers in the Levante area.
When to use a logistics warehouse?
The use of a logistics warehouse is most effective in the following cases,
Ability to cover logistics costs and be passed on to the end customer
Not selling at a loss, being able to obtain greater profitability by allowing better product management
Need for external stock to cover with demand peaks, almost impossible with a Lean Manufacturing management strategy with the disruption of supply chains.
Need to stock up raw materials for downstream production
Moisture-controlled storage in dry and clean environments to avoid any degradation of packaging and damage to contents